Newsletter
The veterinarians and staff at the Cat Hospital of Austin are pleased to provide you with an online newsletter. This fun and fact-filled newsletter is updated on a regular basis.
Included in the newsletter are articles pertaining to pet care, information on our animal hospital, as well as news on the latest trends and discoveries in veterinary medicine.
Please enjoy the newsletter!
Current Newsletter Topics
10 Fun Facts About Cats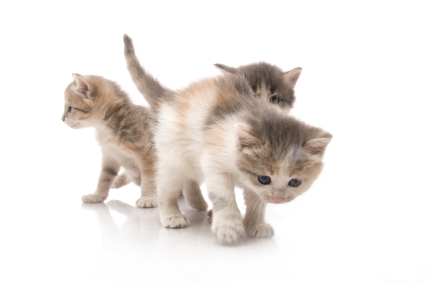 Ten Fun Facts About Cats
Cats "paw" or "knead" to mark their territory. Cats sweat through the bottom of their paws and rub off the sweat as a marking mechanism.
Cat urine glows in the dark when a black light shines on it. If you think your cat or kitten has had an accident in your home, use a black light to find the mishap.
If your cat is near you, and her tail is quivering, this is the greatest expression of love your cat can give you, but if your cat is thrashing its tail, she is in a bad mood, so keep your distance!
During her productive life, one female cat could have more than 100 kittens. A single pair of cats and their kittens can produce as many as 420,000 kittens in just seven years.
Sir Isaac Newton invented the cat door.
Cats spend 30 percent of their waking hours grooming themselves.
Ancient Egyptians shaved their eyebrows in mourning when their cats died. And if someone killed a cat, he or she could get the death penalty.
According to the Guinness Book of World records, the oldest cat was Crème Puff from Austin, Texas who died in 2005 at 38 years old.
When cats are happy, they may squeeze their eyes shut.
The reason for the lack of mouse-flavored cat food is due to the fact that the cat test subjects did not like it.
Cats and Diabetes
Diabetes is a condition caused by a relative resistance to or deficiency of insulin which results in elevated blood glucose levels and glucose in the urine. Diabetes mellitus is most common in older cats; however, obese cats are at an increased risk of developing this condition. Evidence has shown that genetics may play a role in the development of diabetes in cats. In particular, the Burmese breed has been identified as being predisposed to diabetes, and analysis of pedigrees has suggested that this is an inherited trait.
Insulin is produced by the pancreas and is released into the bloodstream where it travels to all the tissues of the body. Its main role is to enable cells to take up glucose (sugar) which is needed as an energy source. In diabetes, there is a relative or absolute deficiency of insulin. An absolute insulin deficiency may arise as a direct failure of the pancreas to produce this hormone. In most diabetic cats, there is both an absolute insulin deficiency and a situation whereby cells of the body fail to respond effectively to the insulin produced. This results in a decreased amount of glucose taken up by the cells and an increase of glucose in the blood (called hyperglycemia). As the cells are starved of glucose, the body begins to break down stored fats and proteins for sources of energy. This process results in weight loss and the accumulation of toxic waste products, which can cause a diabetic crisis known as ketoacidosis.
The symptoms of diabetes may be severe or mild. Due to the increased amount of glucose in the blood, it is excreted into the urine. Glucose that is passed into the urine takes water with it, so an increased volume of urine is produced. To compensate for the water lost into the urine, diabetic cats develop an increased thirst. Weight loss and an increased appetite are also frequently seen.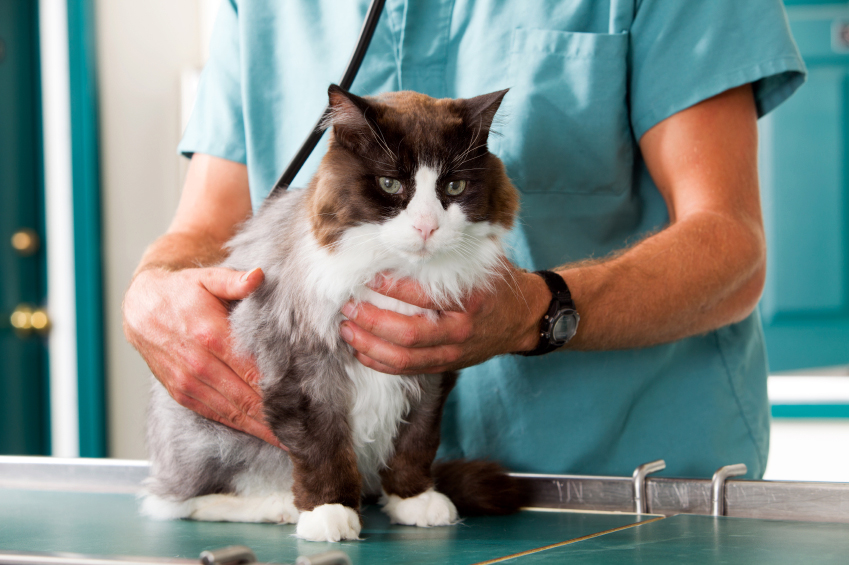 The cat owner often reports one or several of the following symptoms:
• Weight loss
• Increased appetite
• Increased urination
• Increased water consumption
These signs are not always present or may pass unnoticed. If a cat spends most of his or her time outdoors, the increased thirst and increased urination may not be noticed by the owner.
There are other clinical signs that may be observed. These include:
• Straining to pass urine or passing bloody urine (associated with a urinary tract infection)
• Poor coat
• Cataracts and retinal abnormalities causing vision problems
• Weakness in hind legs or dropped hocks
Some cats develop ketoacidosis, a complication in uncontrolled diabetes. In this situation, the cat may become extremely depressed, with symptoms such as vomiting, diarrhea, complete loss of appetite, dehydration, collapse and coma. If any of these signs are seen in a diabetic cat, it is an emergency condition and he or she should be taken to a veterinary hospital immediately.
Diabetes mellitus is usually a treatable condition, but requires considerable dedication and commitment from the cat's owner. Owners of a diabetic cat need to be aware that a strict routine must be followed. The timing of insulin injections is important; however, they can be altered to suit the lifestyle of the owner. Once the insulin injections have begun, they need to be given at regular intervals. Knowledge on correct insulin storage, handling and administration is also required. The dose of insulin given should never be changed without consulting your veterinarian. One of the most common reasons for poor stabilization at home is problems with insulin storage and/or administration.
September is Happy Cat Month – How Will You Celebrate?
Did you know that September is Happy Cat Month? This is great news for all pet owners that experience endless joy from feline companionship. Your cat is important to you, so this is a great time to celebrate them. It is also a great time to engage in education, community and of course happiness!
What is Happy Cat Month?
CATalyst Council is the founder of Happy Cat Month, which has become an annual event in September. It was designed as an event to serve and educate fellow cat owners in ways to ensure their cats remain happy. There will be many events planned throughout the communities in a way to educate the public about cat's health.
The focus is mainly on spreading the word about the welfare, value and health of cats. Many people tend to view cats more self-reliant, less in need than dogs and overall shy creatures. Happy Cat Month hopes to break those stereotypical boundaries and ensure cats receive the love, companionship and care that they deserve.
Helping to Keep a Happy Cat
Are you ready to get involved? The best way to celebrate Happy Cat Month starts in your own home. Make sure that you have an environment that allows your cat to be happy. Here are some simple tips that might help you get started:
Reward
There are many playthings that your cat would enjoy and it will help to keep them mentally stimulated. Anything from a toy mouse, to catnip, to even a cardboard box can help keep a cat busy and content, even when you're not in the house!
Protect
While many cats live inside, it only takes a moment and they will dart out the door. Protect your feline with a microchip. This helps to ensure they are returned to their happy home should anything ever happen to them.
Stay Sharp
Provide a scratching post. This not only protects your furniture but gives you little friend an outlet to play. It also ensures that their claws remain sharp, which apparently makes them quite happy.
Adopt
If you have more love to give, why not consider adopting a cat in need? Most felines prefer to have some companionship with another cat, so this could benefit everyone. Imagine the cuddly times that will occur with even more cats in the home!
Keep Veterinary Appointments
Nothing is more important than the health of your cat. Ensure that you attend all recommended appointments with the vet and follow their recommendations. This will ensure your cat's overall health and well-being.
Fun Ways to Pamper Your Cat
Want to go above and beyond this Happy Cat Month? It is time that your cat received a little pampering for themselves. You can find some practical ways to ensure your cat knows they are loved and cared for. Try these tips to pamper them:
Play some games with them. Cats love being active and it is even more fun when you join in. Consider helping him chase a toy or grab a piece of yarn and start dangling it over her head. In no time, you'll be enjoying some laughs together.
Treat them to some raw meat. A little piece of beef or poultry can improve the tooth and gum health of your cat. On top of that, they really enjoy the treat. Just be sure to discuss the health of your cat with your vet before you make changes to their diet.
Brush your cat. Not only is it great for their coat, but they adore it. Pet behind the ear and under the chin as well. In no time, you'll be enjoying some purrs and nudging for more.
Give them a catnip toy. Catnip is a member of the mint family and makes cats. Find quality, organic catnip or a catnip toy for your cat to enjoy and see the fun that they will have.
Happy Cat Month shouldn't just be about once a year, but a complete lifestyle change. Your cat's health and happiness should always be important and at the forefront of your mind. Be sure to take this month as an opportunity to share the event with other cat owners. You can help them find ways to make their pets feel more valued and loved. Be sure to also look for local events that might be happening in your area.
Compromise With Your Cat on Scratching
The claws are the primary weapon in the feline arsenal. In addition to providing an iron grip for climbing, a cat's claws can be lethal—quickly un-holstered to slash at an enemy or rip open a soft underbelly. Although the claws are often described as retractable, a cat's claws are, in fact, hidden until the paw is extended. Safely sheathed when the cat is relaxed, even while it is walking, the claws remain sharp and ready for action. During a post-nap stretch or an angry swipe, the tendons controlling the claws are pulled taut, thrusting the nails outward.
Though seemingly incorrigible scratchers, cats rake their claws over rough surfaces to both clean and hone them. The raking motion also helps shed the claws' dead and dulled outer layers, and helps exercise the leg muscles. Just as importantly, scratching allows the cat to leave its calling card—a territory marking scent released from the paw pads.
So now that you know the biology behind it and that scratching is a natural behavior for cats, how are you going to convince your cat that your sofa is nicer UN-shredded? Start off on the right foot (or paw) with universal advice from Mark Twain, "Never try to teach a pig how to sing; it frustrates you and annoys the pig." Keep in mind that cats like to scratch and generally need to scratch, so you are never going to be able to stop the behavior completely. Your job as protector of your furniture is to re-direct your cat's scratching to an area that is acceptable to both of you.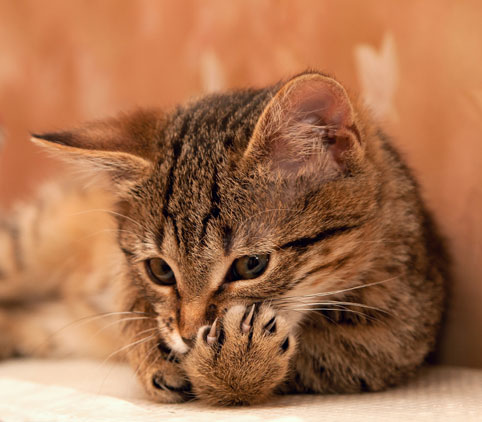 Three Cat-Scratching Compromises
• A scratching post - Cats like rough surfaces that they can shred to pieces. The scratching post with the most aesthetic appeal to your cat is often a tree stump, though this can be a bit unwieldy. Whatever you and your cat choose, it has to be tall enough for her to fully extend her body, and most importantly, secure enough to withstand the push and pull of her claws. If it topples over right from the start, chances are your cat will not go back to it. A sisal post or a carpet remnant (make sure it's secured) are always good choices.
If your cat is reluctant to give up her old scratching areas, you may have to employ discouraging tactics. Using lemon-scented sprays or potpourri of lemon and orange peels on or near her old haunts may work. Cats have a natural aversion to citrus smells. If this doesn't work, try squirting her with a water gun or spray bottle or blowing a whistle or other noise maker every time you catch her scratching. You must use these deterrents while she is scratching, in order for them to be effective.
• Trimming its nails or applying protective guards - Though trimming your cat's nails may defray some of your cat's potential for destruction, it does not stop her from scratching. By keeping them short, it makes them less sharp. The longer they get, the sharper they become as a result of scratching. If you are unable to trim your cat's nails by yourself, many groomers or veterinarians provide the service at a minimal cost. Even if your cat uses a scratching post regularly, it is wise to keep her nails trim to help her avoid getting stuck to the carpet or your sweater while the both of your are snuggling.
Soft Paws are another great option. These are lightweight vinyl caps that are applied over your cat's own claws. They have rounded edges so your cat's scratching doesn't damage your home and furnishings. They last for approximately six weeks or however long it takes for your cat's nails to grow out of them. They are generally applied only to the front paws since those are the most destructive of the four. Soft Paws come in a kit and are easy to apply using the cap and adhesive. If you find it difficult to apply them to your cat, at least initially, your veterinarian or groomer may be able to do it for you for a nominal fee.
• Declawing - A surgical procedure, de-clawing involves the total removal of your cat's nails. It is a non-reversible procedure, but is extremely effective in protecting your furniture. Though an effective option, it is not recommended for cats that go outside regularly as they lose their ability to defend themselves with their claws. Since it is a surgical procedure requiring anesthesia, schedule an appointment with your veterinarian to discuss the procedure.
Ultimately, your cat chooses her favorite place to scratch. However, it is up to you to give her suggestions and persuade her to use an area you have chosen. Training your cat to do what you want takes a lot of patience. Remember to reinforce good and wanted behavior and deter unwanted behavior. Once you and your cat have found a suitable solution, your house and furniture are going to thank you for your perseverance.
Dogs and Cats Can Donate Blood
You may have donated blood, but did you know that dogs and cats can donate blood too? During surgeries, illness or injury, veterinarians need the blood of other pets to potentially save a cat or dog who is in the hospital. According to a recent Huffington Post article, there are a few requirements for a cat or dog to be able to donate blood.
Your dog or cat may be eligible to donate blood if they meet the following requirements:
Be between the ages of one and nine
Dogs must be 50 lbs. or more
Cats must be 10 lbs. or more
Cats must be solely indoor pets
Never had a transfusion
Not used for breeding
Not on any long-term medication
Some of these requirements may vary depending on the state and blood bank, so it is important to check every hospital or donation center in your area individually. During every donation, a dog will donate approximately two cups, or one pint at each donation. A cat will donate approximately two ounces. When a dog donates blood just one time, it can help save the lives of up to four dogs! Pets get rewarded for their good deed with food, treats, toys and of course, belly rubs. Learn more with the video and article below.
How Do Cats Really Feel About Their Human Friends?
Cats are some of the most wondrous housemates we have. They are clearly more independent than about any other animal you can own and tend to do things their own way. Where dogs are our loyal companions, cats are more like a roommate that does their own thing most of the time. This brings many owners to wonder what their cats really think and feel towards them. Some people even argue that cats may not see humans as anything more than a resource. Others argue that our cats are trying to take care of us because they don't believe we can properly hunt. So, what's the truth behind our pets' actions?
A Different Language
All animals speak a widely different language than we do. Instead of using words a lot of the animal kingdom makes their communication known through posture and body movements. For example, one of the most common signs of affection by a cat is a slow blink. As humans, we would never blink at someone to say "I like you." To understand an animal and what they are thinking you really must take a look into their psychology. A lot of scientists have done this by observing cats in social settings to come to conclusions about the meaning behind their actions.
A big chunk of figuring out how our cat feels about us is to observe how they act with us in comparison to other cats. If you have ever seen a bonded pair of cats you may notice that they often sleep together or play together. When cats don't like each other, they make it insanely apparent. Cats will do all types of things when they don't like you such as try to claim territory by marking it or verbally threats such as hissing or spitting. These signs are clear to most people that you should pack off and give your cat some space. Other than these signs those most owners can be rather clueless to the positive signs a cat tries to put off as these may be subtler or misunderstood than actions that clearly represent hostility.
How Do I Tell If They Like Me?
A cat that has affection for you will show quite a few signs. Cats, as it turns out really, don't see us differently like dogs do. Most dogs recognize that we are a separate species and treat us differently than they would other dogs. Cats, on the other hand, treat us no different than other cats. This means that cats either can't identify us as anything but big felines or they view humans as being on the exact same level as them. Either way, this means that they don't change their behavior between you and another cat that they like.
Cats treat us much like they treat their mom or their own kittens. A cat the fancies us will sleep with us and takes the time to try and groom us. That means that annoying part of the day where you feel your cat's sandy tongue on your hand is a big sign of affection. Cats that like you will also knead on you often or rub against your legs when you're standing up. This is all behavior that relates back to what they learned from kitten hood in some way. In comparison, it's like a hug to show affection.
What is All This Meowing Then?
Cats in the wild don't meow to communicate with each other much, if at all, meaning that these sounds and signals are reserved specifically for humans. As it turns out cats have sort of figured out how to best make us respond based on the sounds they make. This is why so many owners can tell what their cats want by the type of meow they are putting out. A cat learns how to get the reaction that they want out of their actions and keeps rolling with it. In a way, they are kind of training us to come and help them out. It's an interesting dynamic that we don't see with any other pets. If a cat does an action and you don't react, however, they will probably switch to another tactic until they find out what makes you tick.
Cats are fascinating creatures that provide love, laughs and snuggles to any size family. It is important to always be mindful of how pets are responding to your actions, tone of voice and more. If you are interested in adopting a cat, visit a local shelter and find a cat whose personality goes along perfectly with yours!