Newsletter
The veterinarians and staff at the Cat Hospital of Austin are pleased to provide you with an online newsletter. This fun and fact-filled newsletter is updated on a regular basis.
Included in the newsletter are articles pertaining to pet care, information on our animal hospital, as well as news on the latest trends and discoveries in veterinary medicine.
Please enjoy the newsletter!
Current Newsletter Topics
February is National Pet Dental Health Month
Dental care is vital to your pet's health. If you've already established a dental care program for your pet, you're off to a great start. But if your pet hasn't received a dental exam from your veterinarian, it's time to get started. February is National Pet Dental Health Month, the perfect time to schedule a dental exam for your pet and develop a home dental care regimen for your best friend.
Why is dental care so important for your pet? Periodontal disease is the number one diagnosed problem in pets. By the age of two, more than 80 percent of dogs and 70 percent of cats have periodontal disease in one form or another. The buildup of plaque and tartar on your pet's teeth leads to bacterial infections that can enter the bloodstream and infect other parts of your pet's body. Periodontal disease has been linked to heart attacks, strokes, kidney disease, osteoporosis and other problems.
The good news is that periodontal disease is easily prevented. Regular dental cleanings and a home dental care regimen can eliminate the plaque and tartar that lead to gum disease and oral infections. During a dental cleaning, your veterinarian also performs a complete oral examination of your pet. This includes screening for oral cancer, broken teeth and cavities. Spotting these problems early makes them easier to treat and improves your pet's overall oral health.
Your pet's dental cleaning is more involved than the same process you go through at your dentist's office. Anesthesia is required to keep your pet still and comfortable during the procedure. Because of this, your pet undergoes a thorough physical examination before each dental cleaning. Laboratory blood tests, as well as other diagnostic procedures are also used to screen for potential problems and risks before anesthesia is administered. Using these results, your veterinarian develops a safe anesthetic protocol specifically for your pet.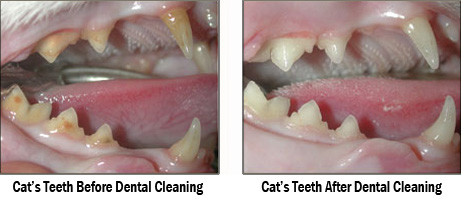 During a dental cleaning, tartar is removed from your pet's teeth with a hand scaler. Next, a periodontal probe is used to check for pockets under the gumline - where periodontal disease and bad breath start. An ultrasonic scaler is used to clean above the gumline and a curette is used to clean the teeth under the gumline and in the crevices. Finally, the teeth are polished and an anti-bacterial solution is applied to help delay future tartar build-up.
Dental care doesn't end in your veterinarian's office. Brushing your pet's teeth at home is an added level of protection against gum disease. In order to be most effective, brushing must be done at least three times a week; however, daily brushing is ideal. Brushing your pet's teeth can be supplemented with antiseptic rinses. Some pet foods and treats are also effective in preventing plaque and tartar buildup. However, there is no substitute for regular brushing and professional dental cleanings.
Call your veterinary hospital to schedule a dental examination and cleaning for your pet today. Your best friend will thank you!
Winter Tips for Pets
It won't be long until the temperature drops off, the sky turns grey and the snow starts to fall. Winter can be a fun time for pets to explore, but as a pet owner, you should keep in mind a few things to make sure they stay healthy and safe during this time of year.
Don't Overestimate the Warmth of Fur
Pets with thicker coats can handle colder temperatures better than shorter-haired animals. But don't think that just because a pet's hair is long that they're completely insulated from the cold. If a pet's coat gets wet, the fur loses its insulating ability. Keep a towel handy to dry off your pet after a romp in the snow, and make sure that they have access to a dry and draft-free shelter on the cold days.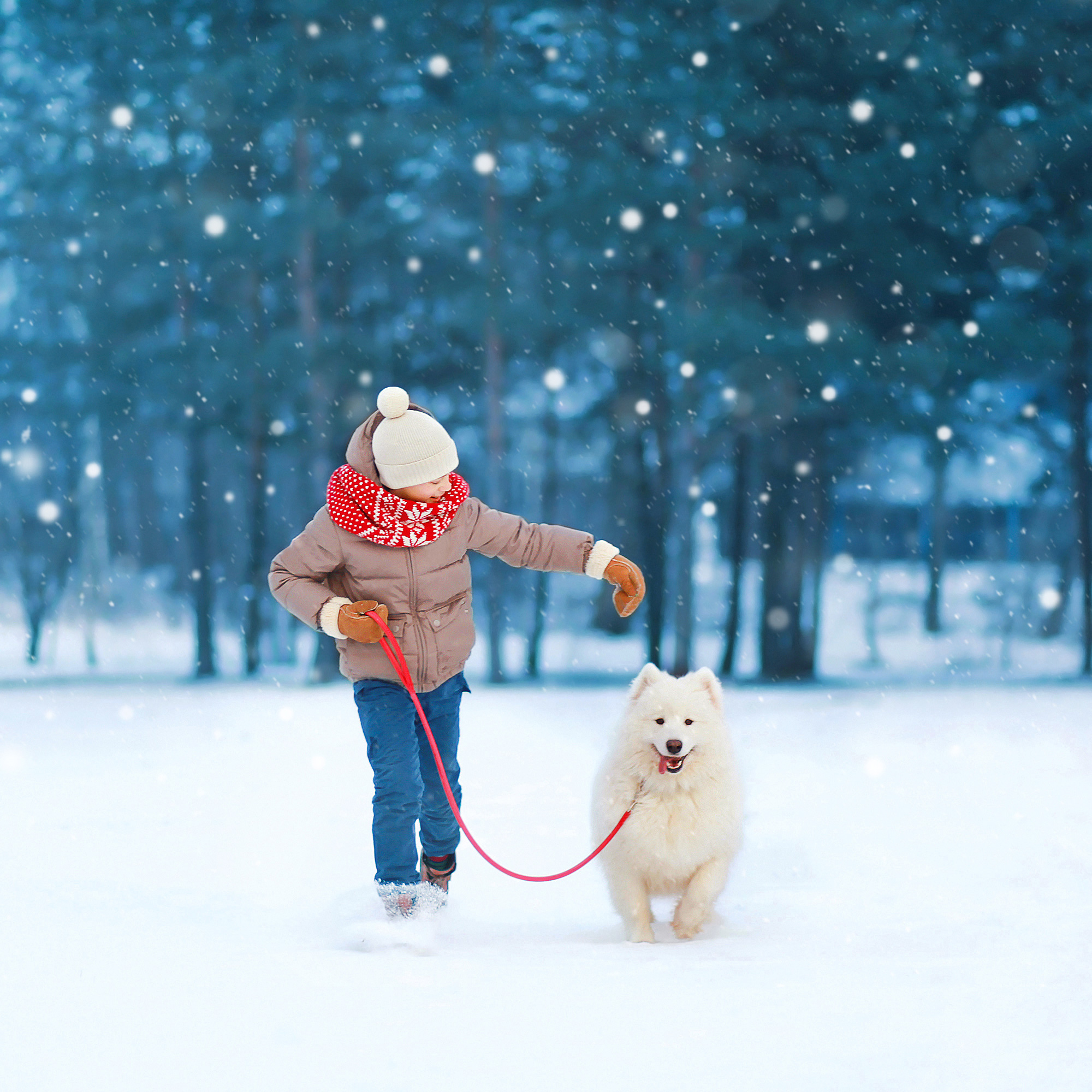 Dressing Your Pet with a Jacket Can Help…to a Degree
Dogs can be very cute dressed in their vest or jacket during the winter months. These fashionable items look great and can help keep your dog warm, but don't consider them to be the equivalent of a parka. Keep a close eye on your dog and never assume because they have on a jacket, they're invincible to the frigid temperatures.
As for your cat: it's hard enough to get them in their travel carrier. Even if you are able to get a jacket or vest on them, it's very likely they're going to spend all their energy trying to get it off. You can probably skip this step.
Protecting your Puppy or Senior Pet Means keeping Them Indoors
As much as your new pet might want to go outside and run around on colder days, it's best to limit their time in the snow or cold. They don't have the fat, metabolism or full coat to handle frigid temperatures as adult pets do.
Your senior pet may have spent winters in the past enjoying the brisk temperatures and playing as the snow falls. But as they age, recognize that they aren't as strong as they once were. This doesn't mean they can't be outside and play, just be conscientious of time and make sure they have plenty of warm blankets and treats when they come indoors.
Adopting A Pet
You see a cute tiger-striped kitten with white paws and green eyes, just begging for your attention. Or maybe it's a handsome, tail-wagging Labrador mix who couldn't be more friendly and has those irresistible puppy eyes.
If you're like most of us, falling in love with a pet is easy. And no wonder! Sharing your home with a four-legged friend can be one of life's greatest joys. Dogs, cats and other pets give us unconditional loyalty and acceptance, provide constant companionship, and even help relieve stress after a hard day's work.
Adopting a pet, however, is a big decision. Dogs and cats are living beings who require lots of time, money and commitment - over 15 years' worth in many cases. Pet ownership can be rewarding, but only if you think through your decision before you adopt a companion.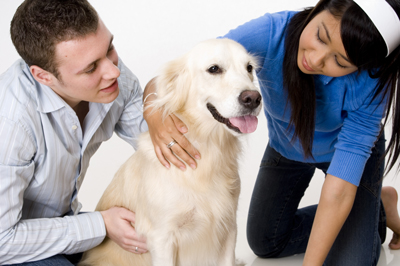 Things to Consider
The fact that you're thinking about adopting a pet from an animal shelter, rescue league or humane society means you're a responsible and caring person. But before you make that final decision to bring a furry friend into your life, take a moment to think about these questions:
•Why do you want a pet?
It's amazing how many people fail to ask themselves this simple question before they get a pet. Adopting a pet just because the kids have been asking for a puppy usually ends up being a big mistake. Don't forget that pets may be with you even after your children leave home.
•Do you have time for a pet?
Dogs, cats and other animal companions cannot be ignored just because you're tired or busy. They require food, water, exercise, care and companionship every day of every year. Many animals have been given up because their owners didn't realize how much time it took to properly care for them.
•Can you afford a pet?
The monetary costs of pet ownership can be quite high. Licenses, training classes, veterinary care, grooming, toys, food, kitty litter and other expenses add up quickly.
•Are you prepared to deal with special problems that only a pet can cause?
Fleas, scratched-up furniture and accidents from animals who aren't yet housetrained are just a few of the inconveniences that you will face.
•Can you have a pet where you live?
Many rental communities don't allow pets, others have restrictions. Make the necessary inquiries before you bring a pet home.
•Is it a good time for you to adopt a pet?
If you're a student, in the military, or travel frequently as part of your work, waiting until you settle down may be the wiser choice.
•Are your living arrangements suitable for the animal you have in mind?
Adopting an energetic dog or a breed that is unsuitable to share your small apartment (a Border collie for example), is not a good idea. Choose an animal who will be comfortable in your surroundings.
•Who will care for your pet if you go on vacation?
You'll need either reliable friends and neighbors, or money to pay for a boarding kennel or pet-sitting service.
•Will you be a responsible pet owner?
Having your pet spayed or neutered, obeying community leash and licensing laws and keeping identification tags on your pets are all part of being a responsible pet owner. Of course, giving your pet love, companionship, exercise, a healthy diet and regular veterinary care are other essentials.
•Are you prepared to keep and care for the pet for his or her entire lifetime?
When you adopt a pet, you are making a commitment to care for the animal for his or her lifetime.
Get an Animal for Life
Sure, it's a long list of questions. But a quick stroll through the animal shelter will help you understand why answering them before you adopt a pet is so important.
Please, think before you adopt. Sharing your life with a companion animal can bring incredible rewards, but only if you're willing to make the necessary commitments of time, money, responsibility and love for the life of the pet.
Much of the information for this article was contributed by the Humane Society of the U.S.
10 Simple Ways To Build a Solid Bond with Your Cat
Cats can be wonderful companions but sometimes things don't work out exactly the way you thought they would. Maybe your new cat would rather rest on the chair at the other end of the room than lie down on the sofa next to you. Or perhaps your cat has even hissed at or scratched you when you tried to pick them up. Often, when people don't live happily with their cats, it's because the pet owners didn't establish a good bond when they first brought the kitty home.
Bonding creates a personal relationship between you and your pet. This includes mutual respect, trust and love. You are a special person to your cat, and your cat should be special to you. It's easiest to bond with a new kitten, but even if your cat is an adult and you've had them for several months or even years, it's still possible to strengthen the bond you if you are willing to work at it.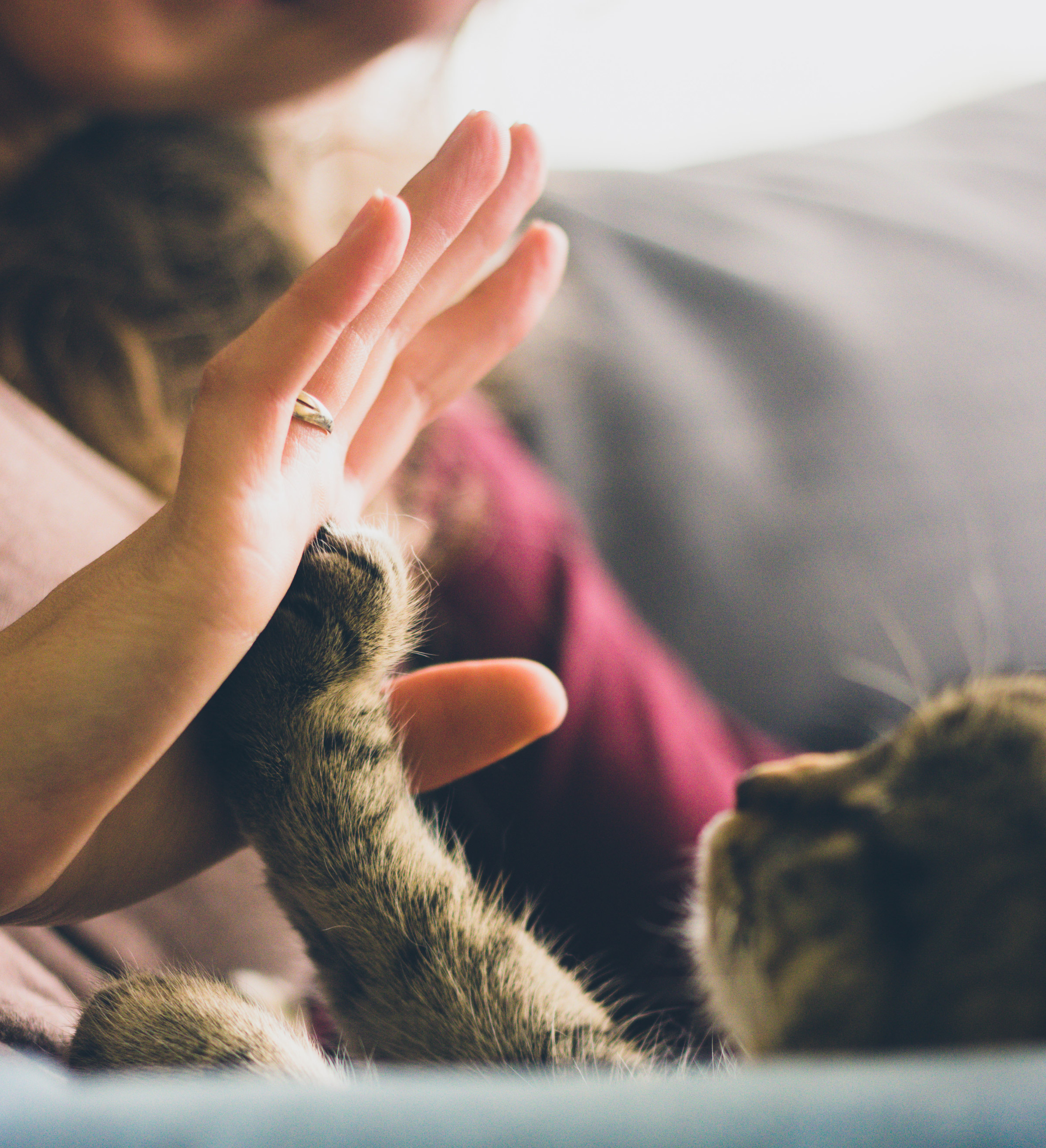 Here are 10 suggestions for building a solid bond with your feline friend:
• Include your cat in your daily activities. Invite your cat to be with you while you clean house, watch television, sort through the mail, work at the computer or read the newspaper. The more activities your cat observes you doing, the more he will trust you in all situations.
• Talk often to your cat. Verbal communication is one of the most important aspects of bonding. Don't feel silly sitting down and talking to your cat. They may not understand the words you use, but they can understand a warm, friendly tone of voice. Use your cat's name often. This will grab their attention and establish a personal relationship between the two of you.
• Get to know your cat's individual personality. Every cat is different; some are shy and independent, while others are outgoing and crave attention. Adapt your lifestyle to the particular personality of your cat. Try different behaviors on your cat and see what fits. If you want your cat to be affectionate, you have to determine what you can do to make them act that way.
• Provide a consistent daily routine. Cats don't like surprises. They feel safe and secure with a routine. Establish an acceptable daily schedule with your cat early in the relationship. Let them know how often and when to expect meals, walks on the leash and play sessions. You also should be consistent with the behaviors you allow and don't allow. Don't yell "no" when they jump on the counter today and let it slide tomorrow. If you are inconsistent in how you interact with your cat, you will confuse them and create a lack of trust.
• Give a new cat plenty of privacy. When you bring a new cat into your home, you should give them a room of their own for two to four weeks. Sit in the room for an hour a day, reading or just relaxing, but don't force the cat to interact with you. Make yourself available, but let your cat be the one to make the first move. If your cat starts walking toward you, put some catnip or other treat around your chair. This encourages the cat to move toward you. Never reach out to grab a frightened cat nor drag a cat out from under a chair. It's important that you respect your cat's fears and inhibitions. Remind yourself that they are in a new environment. Go especially slow with an older, adopted cat who may have been a stray. Give your cat time to see you're not a threat and eventually they will develop a relationship with you.
• Avoid harsh corrections. If your cat misbehaves, do not hit, holler or punish. You can say "no," but do so only to stop unacceptable behavior. Don't yell or scream. You can use a squirt bottle or air horn to stop your cat from scratching your furniture or drapes, but be careful not to link yourself with the correction. Hide the squirt bottle as you spray. You want your cat to think the drapes have a life of their own, that the drapes did the squirting. If the cat thinks you did it, it may be harder to foster a strong bond.
• Provide frequent play and exercise. Play with your cat several times each day using tossed toys, fishing pole toys, rolled balls or other interactive cat toys. By playing with your cat, you build a bond because the cat is thinking, 'when mom or dad is home, I have more fun.' This causes the cat to welcome you that much more. Avoid tug-of-war and other games that encourage aggressive behavior. Resist the temptation to roll your cat onto their back and rub his or her tummy. When you do that, you encourage the cat to use their claws and teeth on your hands. It seems like that's a lot of fun, but cats get overexcited and can become quite aggressive as a result.
• Touch with affection. Show your cat you care - stroke their fur, pat his head, scratch behind his ears, even gently squeeze his paws. Physical contact is a wonderful way to make your cat feel loved. However, avoid quick, jerky movements that might startle him.
• Hold your cat securely. Pick up your cat firmly, but gently, supporting their entire body. If you let their limbs dangle, your cat will resist and may struggle or bite you. Hold your cat by sliding your right hand between his front legs and around his upper body. Put your left hand under his rear end and around the outside of his body, pulling him into you so he feels secure. You want your cat to trust you; not as though you're going to drop them.
• Give your cat time. Some people buy a cat and want a best friend immediately. Bonding is not automatic. It may take a couple of weeks to bond with a kitten and several months to bond with an older cat. Go slowly and don't expect too much too fast.
You will have both good and bad days with your cat. Like people, now and then cats get grumpy, be patient and understanding. Treat your cat as a good friend and sooner than later, they be one.
6 Games to Play with Your Cat
One of the best ways to strengthen the bond between you and your cat is to play games together. When you play with your cat, you become the most interesting object in his or her life. Not only is playtime fun for your cat, it's also a great way to get your cat to exercise, both mentally and physically.
Here are six games you can play with your cat. Not every feline will want to play every game on this list, but certainly there are at least a few games here that you and your cat will enjoy. While most of them require objects you may have around the house, there are also a number of toys available that provide the same fun. The key is to actually play with your cat in order to create a fun and lasting relationship with your cat while also keeping them trim and healthy.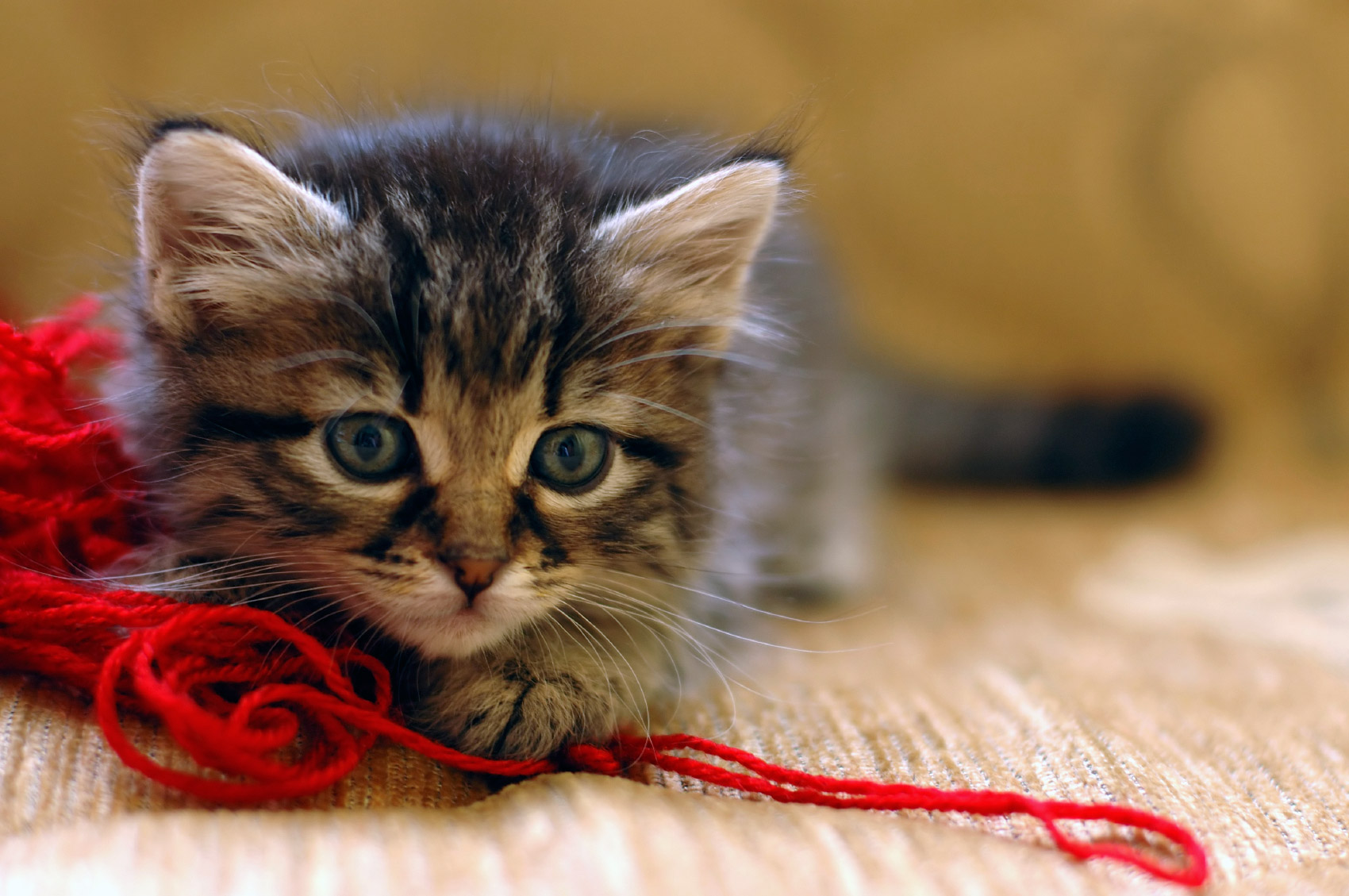 Paw Hockey - Play this game in a room with hardwood, tile or linoleum floors that has at least 10 square feet of free floor space. Break off an 8-inch square of aluminum foil and scrunch it up into a hockey puck shape. (Please remember that foil balls should always be thrown away at the end of the game. They are fine for games, but are not safe for unsupervised play.) Show your cat the puck and then flick it with your fingers so that it goes skittering across the floor. Your cat will then chase after the puck, batting it with his paws and making it scoot from one end of the room to the other. If your cat starts to lose interest in the game, pick up the puck and give it another flick.
Staircase Dash - With your cat at the top of the stairs and you at the bottom, fling a ping pong ball to the top of the staircase, against the side wall, one or two steps in front of where your cat is sitting. The ball bounces down the stairs and your cat should race down the stairs chasing after it. When the ball reaches the bottom of the stairs, probably with your cat just a step behind, fling the ball back up to the top of the staircase. Keep tossing the ball up the steps until your cat gets tired.
Bathtub Scurry - Put a ping pong ball in a clean, dry bathtub. Remove the bottles of shampoo and bars of soap and plug the drain so the ping pong ball doesn't get lodged there. Put your cat in the bathtub, show him the ping pong ball and bounce the ball off the side of the bathtub. As the ball bounces around, your cat should chase after it. If the ball starts to slow down, give it a good roll off the side to get it moving again and to keep up your cat's interest.
Chase the Thing on the String - Get an aluminum foil ball, hollow plastic Whiffle ball or catnip mouse and tie it to a 3-foot piece of twine or heavy string. Pull the string along the floor in front of you, over the cat furniture or up and down your staircase and let your cat chase after the object. Be sure to allow your cat to capture the object every once in awhile so he/she can feel like a successful predator.
Shadows on the Wall - Turn off the lights in the evening and shine a flashlight on a nearby wall. Dangle bouncy cat toys or other small objects in the light and move them back and forth so their shadows race up and down the wall. Your cat should leap up at the wall trying to catch the elusive prey.